collaborations, projects + events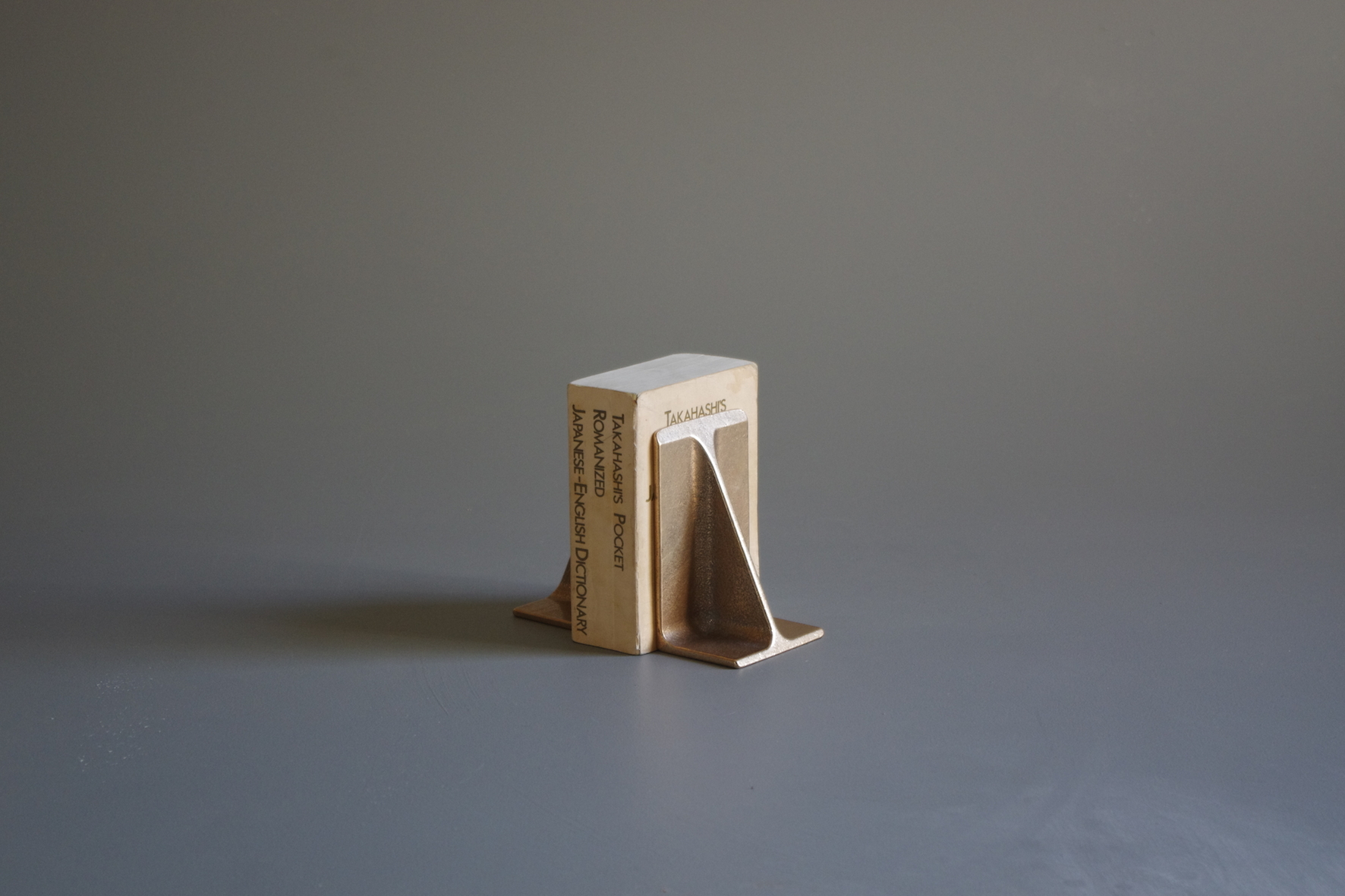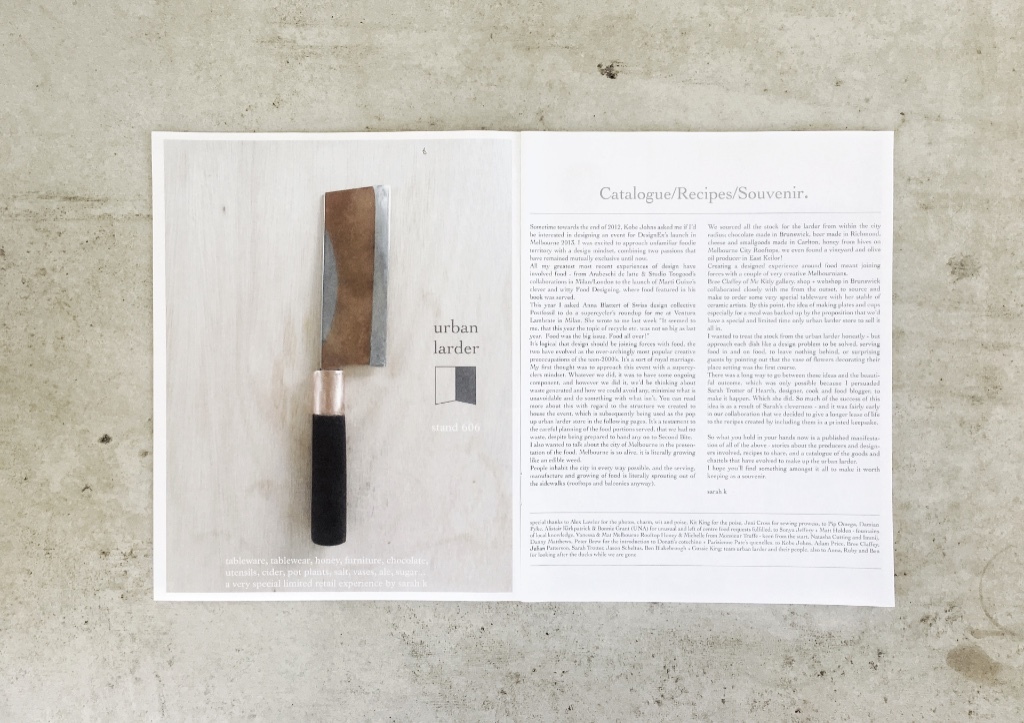 Designed by Sarah K in collaboration with Bree Claffey (Mr Kitly) and Sarah Trotter (Hearth) in 2013, Urban Larder was a supercyclers' response to designing an event; an alternative solution that considered what would happen next to all the things we proposed to use; decorate with, sit on, eat, drink, eat from etc.. and still provide a memorable experience.
The Urban Larder itself took the form of an adaptable structure built from off the shelf hardware components, designed minimally with zero waste, that housed the event.
We made everything anyone sat on, ate from, drank from, seasoned and cut with specifically for the project, and all these things were sold to visitors of the event when the structure was transformed into a pop up store. Once the event had finished the  structure found a home as a greenhouse on a farm.
This project was proof that it's not a great stretch to build a next stage into the works that we create as designers, to address the possibilities of the future in a tangible way. We think that this could be an integral part of a design brief.
Curated by Bree Claffey (Mr Kitly) and Sarah K , 'for school' is a collection of objects designed around the theme 'for school. The objects were launched at Tokyo Design Week 2015. Whilst they have been designed to the theme of 'for school' the objects can be used in any setting the user, young or old, might desire. They are functional, meticulously crafted objects for use for a lifetime.​​​​


Emphasis has been placed on carefully crafted, handmade works, mindful of environmental impact. Each designer is closely involved in the making of their objects. All items are made to order, shifting away from creating objects en masse and towards fulfilling needs as they arise, even for larger audiences. This made-to-order model - where the number of items created is only what is necessary, and is limited to the need - is a model at odds with that of industrialised process which tends to make as many things as possible in the hope that they will be consumed. 
​

The 'for school' products are priced to reflect their real value; the time, skill, care and cleverness that has gone into the making of each thing. It's hoped this approach to valuing objects makes purchasing the product a considered process that in turn encourages a fuller appreciation of the object and its use.
A percentage of all the for school sales will go to the Malala Fund for the education of girls and boys in places where this might be difficult or denied.

Stylists for Marine Debris Bakelite
We asked some of our favourite stylists and their photographers to create images for us of Marine Debris Bakelite.
We like to focus on the beautful results of our investigations into waste, not on the mess it once was, and these talented artists and creative directors are the experts in presenting products to the world in beautiful, idiosyncratic ways...
first image Nat Turnbull / Photo - Scott Newett
second and third Tamara Maynes / Photo - Adrian Grasso

​​Supercyclers was launched as a part of The Other Hemisphere exhibition at Ventura Lambrate in Milan in 2011, with Ghostware by Lianne Rossler and Sarah K, made from single use plastic bags and Mark Vaarwerk's Unexpanded Polystyrene Collection. The reception to this particular work was more substantial than we anticipated and it cemented our understanding for the need to continue to grow supercyclers as a platform to talk about sustainable design. 
During the course of the event we scouted out other designers who we felt were touching on the issues of sustainability in interesting and innovative ways.  
We began to profile these designers on the supercyclers website, the Supercycle Our Souls exhibition then followed.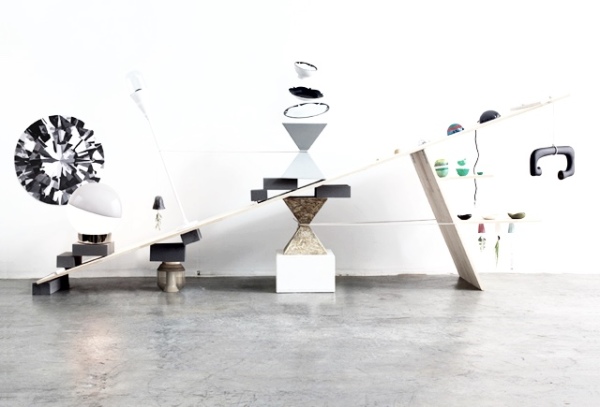 SOS

(supercycle our souls)
​​​​​Contemporary approaches to sustainability.

SOS (supercycle our souls) was the inaugural supercyclers exhibition curated by Sarah k at Ventura Lambrate Milan. We were blessed with a beautiful exhibiton space which attracted visitors in great numbers. 
Each of the works sat quietly in the space accompanied by the designer's philosophy written on the wall behind. Without offering literal explanations about the works, the visitor was left to experience the exhibition as a whole in an abstract and yet more profound way. 

We approach everything with a supercyclers mindset in order to influence our impact on the environment in a minimally invasive and positive way. 


This can be  especially challenging when it comes to short term projects like pop ups, exhibitions, weddings, and launch events which would normally result in substantial waste.
With careful planning, every aspect of these activities can be solved with minimal environmental impact. 
Our experience in this area means that we can offer our knowledge and expertise still maintaning an emphasis on good quality design.

Have a read of these projects and events we have engineered, we will take on anything you throw at us, we love the challenge!
​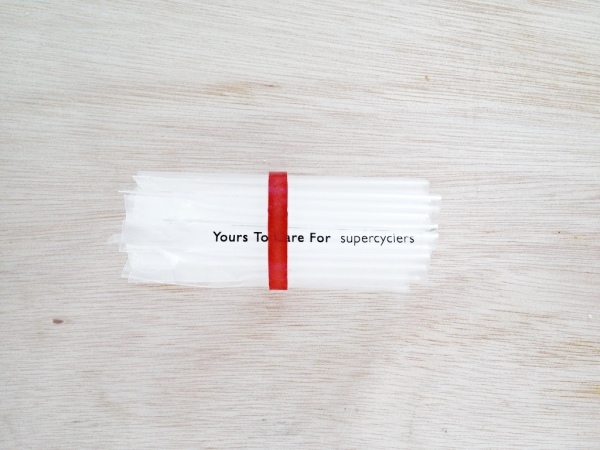 Sarah K for Tretford Rugs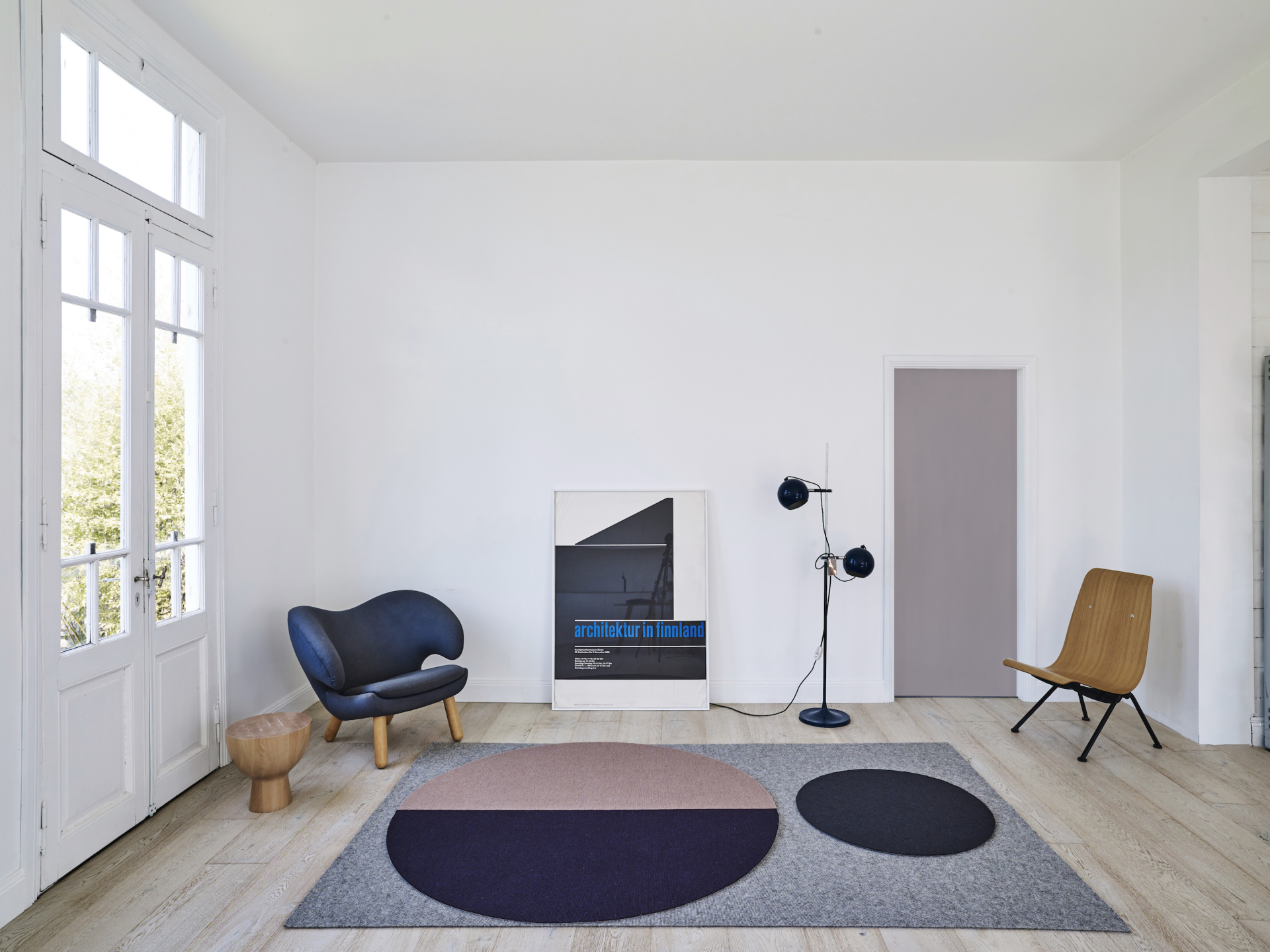 ​This project between Sarah K and Gibbon Group's in-house design team has resulted in a striking collection of rugs for Tretford Rugs featuring bold graphics and contemporary colours.
They are a series of 9 circular rugs in pairings of colour which are also avaliable as a set of 3 (pictured). They provide a graphic accent in a space, versatile enough that they can compliment the furniture thay accompany.
​
All of the cashmere goat hair used in the Tretford products has been dyed without bleaching which not only gives the carpets their stunning, naturally rich colours, it eliminates the use of harmful toxins in the dyeing process. For over 20 years, Mongolian goat hearders have provided this resource to Tretford. 
The discarded materials we are using have become extremely valuable – we seek out the colour and texture that we might once have ignored – 
plastic is a super-material, and should be considered a valuable commodity – it has this ability to last forever so instead of creating products intended for a single use only to be subsequently discarded, we could be making things that need to be cared for and kept
the single stem horizontal vase project is about this shift in value. between 60,000,000 and 500, 000,000 plastic drinking straws are consumed and discarded each day, so a single straw seems like a very small, insignificant thing
​what if we wanted to talk about the single item, the cell – endow it with a beauty and function which in turn celebrates the beauty of a singular stem of foliage found in the garden or on the street – our synthetic vase holds water and sustains the natural plant - and the two fuse + compliment each other. 
​
Taken in this new context and given the right setting, this might be just as beautiful as a bunch of bought flowers – if we are going to shift our thinking about synthetic materials, it is a smaller stretch to appreciate a part of a plant not usually celebrated, leaves, even weeds
our experiments demonstrate a surprising characteristic that allows us to lay them horizontally as we had planned – the water in the vase when laid down stays in the vase because of the surface tension created
in the same way as the stem fuses with the clear plastic, we also wanted the vases to enable the idea of grafting – so that you can pair plants of different form and colour to create something new – to highlight the human or synthetic involvement – when you take home or even make your own version of our vases, you take on the responsibility of caring not only for the plant but for the future of the vase also